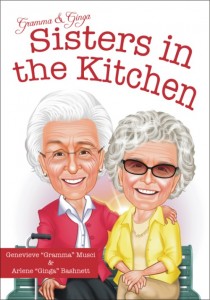 GENEVIEVE "GRAMMA" MUSCI
Non-Fiction, Cookbooks, Humor, West Virginia Authors/Illustrators
Genevieve, known as "Gee" to most of her friends and "Gramma" by millions of her fans on Facebook and Youtube, was born on March 21, 1914, in Adamston, West Virginia. Soon after, her family moved to Clarksburg, WV. She grew up in North View with her parents, Maria Theresa Audia Buttafusco and Salvatore Buttafusco, one brother, Louie, and two sisters, Floranda and Arlene (Ginga). Genevieve skipped school to get married to Frank Musci when she was fifteen and he was sixteen. They were married for 58 years until Frank passed in 1988. Genevieve had two daughters, the late Marie Romano Fumich and the late Sheila
Harris. Gee enjoys spending time with her many grandchildren and greatgrandchildren and her sister, Arlene ("Ginga"). Today at 102, she is proud to say that she has made 40 trips to Italy. The last trip was in celebration of her 100th Birthday! Gee also enjoys seeing her many friends at St. James Catholic Church and paying her respects to old friends at her local funeral homes. If you visit Clarksburg, WV you will probably run into her and her "side kick" Ginga, taking photos with their new Facebook fans at their local grocery store or out at their favorite restaurant.
Arlene Cody Bashnett, was born on February 4, 1919 to Maria Theresa (Audia) & Salvatore Buttafusco of San Giovanni in Fiore, Italy. She was born and raised on Williams Avenue in Clarksburg, WV.
As a young girl, Ginga danced professionally with her brother, a dance instructor, know as "Mr. Louie" to most everyone in Harrison County, West Virginia. Today, at 97, Arlene continues to enjoy a very full life.
She lives with her son, Allen, his wife, and her grandson. Ginga has been a volunteer at the United Hospital Center and the Veterans Hospital for nearly 30 years where she delivers get-well cards and poses for photos with her fans. She loves to spend time with her family, visit her many friends in West Virginia and Virginia, have lunch & play bingo at the Harrison County Senior Center, & eat chocolate candy!
Today, she is best known for making millions laugh as "Gramma's" hilarious sidekick—"Ginga" on Facebook & Youtube and is often recognized for her appearances on The Jimmy Kimmel Show.
Books by GENEVIEVE "GRAMMA" MUSCI