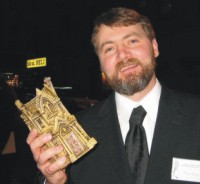 Michael Arnzen
Non-Fiction, Education, Self Help
Award winning author and writing professor Michael Arnzen was born in Amityville, NY — hometown of the infamous horror house.
After a brief stint in the US Army overseas, where he began writing horror stories to entertain fellow soldiers, he moved to Colorado where he launched his career in publishing to much success. By the mid-nineties he received the coveted Bram Stoker Award — the highest accolade in the horror genre — for his first novel, Grave Markings. Shortly thereafter, he went on to earn a Master's degree while working on his second novel, soon followed by his Ph.D. in English at the University of Oregon, where he studied horror and nostalgia in 20th century culture in a dissertation called The Popular Uncanny.
Michael Arnzen now lives near Pittsburgh with his wife and cats. He is a tenured Professor of English at Seton Hill University, where he teaches in an innovative MFA program in Writing Popular Fiction. His latest works include Proverbs for Monsters (winner of the Bram Stoker Award for Outstanding Achievement in a Fiction Collection), Audiovile (a unique spoken word CD featuring original music), and Many Genres, One Craft (an instructional guide for novelists, co-edited with Heidi Ruby Miller).  The Gorelets Omnibus — a new compendium of twisted "gorelets" poetry and weirdisms — features the best of his online work via this website and elsewhere over the past dozen years.