Canceled - West Virginia Book Festival
10-22-2021 to 10-23-2021
Charleston Coliseum and Civic Center, Charleston WV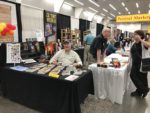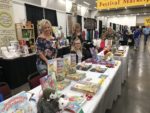 The West Virginia Book Festival began in 2001 and Headline Books has been a participant since the beginning. The Kanawha County Library puts on this spectacular event to celebrate WV authors and their readers and fans. Come and meet the authors, get autographed books, and enjoy the WV literary community.
Friday Oct 22 11:30 a.m. – 6:30 p.m.
Saturday Oct 23 8:00 a.m – 5:00 p.m.
Featured Authors
Dreama Denver
Kevin Miller
Sabrina Runyon – Saturday
Suzanne Alexander
Melinda Chambers
Lisa McCombs
Daniel Boyd
Millie Snyder
Mary Louise "Cookie" Schultz
Dave Shelton
C.D. "Tony" Hylton
Kelsey Clark – Saturday
Jan Jones
Shannon Bennett Campbell
Tom Beal
Krystian Leonard – Saturday
Rusty McQuade
Lew Dobbins
Cynthia Dobbins
Diana Pishner Walker