2023 NEW YORK BOOK FESTIVAL ANNOUNCES AWARDS
NEW YORK BOOK FESTIVAL 2023 Award Announcement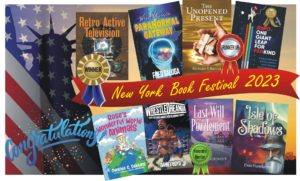 NEW YORK_ A story and activity book using art therapy to help children overcome the loss of a pet is the winner of the 2023 New York Book Festival, which honors books worthy of further consideration from the publishing capital. 
Author Nancy Addison's For The Love of Willy: Overcoming Sadness After Losing a Beloved Pet (Organic Healthy Lifestyle Publishing) tells the endearing story of a woman who nurses an injured baby squirrel back to health. She is traveling and eventually has to sadly surrender him to a shelter. But she learns to find joy again in her memories, art, and expressions of love for Willy.
The book provides tips for children to lift their spirits and find happiness again when they are sad about losing a pet.
Addison wins a cash prize of $1,500 for her moving tale of loss and recovery.
Headline Books' winners in the competition:
COMPILATIONS/ANTHOLOGIES: WINNER: Retro Active Television – Herbie J. Pilato
RUNNER-UP: ESPN: One Giant Leap for Fankind – Bill Rasmussen
SPIRITUAL/RELIGIOUS: RUNNER-UP: The Unopened Present – Richard V. Battle
WILD CARD: RUNNER-UP – West Virginia: Paranormal Gateway – Fred Saluga
YOUNG ADULT: HONORABLE MENTION – Isle of Shadows – Don Stansberry
GENERAL FICTION: HONORABLE MENTIONS: – Last Will and Puzzlement – Melissa Nordhoff
CHILDREN'S BOOKS: HONORABLE MENTIONS

Rose's Wonderful World of Animals – Cynthia Dobbins with Rose Dobbins
WrestleDreamia – Daniel Boyd