2023 SOUTHERN CALIFORNIA BOOK FESTIVAL ANNOUNCES AWARDS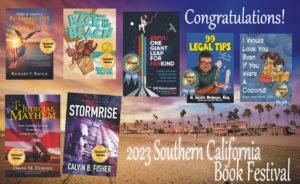 LOS ANGELES_ The Southern California Book Festival announces 2023 awards in the following categories: published and unpublished works in fiction, non-fiction, biography/autobiography, memoir, how-to, compilations/anthologies, photography/art, children's, cookbooks, poetry, spiritual, young adult, business/technology, unpublished manuscripts, wild card (anything goes!), nature/animals and regional lit.
Entries are reviewed on an ongoing basis, comparing earlier entries with later arrivals. Our judges are constantly arguing the merits of the works, and many last-minute submissions have won our past events.
Started in 1999 J. M. Northern Productions has a  track record of first-class productions around the world. Entries are judged by an expert panel who look for general excellence and the author's passion for telling a good story, plus the potential of the work to reach a wider audience.
Headline Books titles garnered the following awards:
Congratulations to Bill Rasmussen and Donald T Phillips, Winner for Best Compilation – ESPN: One Giant Leap for FANkind
L Scott Briscoe – Runner Up, Best How-To Book – 99 Legal Tips
Bucleigh Newton Kernodle, Runner Up for Best Children's Book – I Would Love You Even If You Were A Coconut
Honorable Mentions to
Dreama Denver – Best Children's Book – Back to the Beach
Richard V. Battle – Best How-To Book- Made in America by AmeriCANS Not AmeriCANTS
David Dorsen – Best Nonfiction – Judicial Mayhem
Calvin B Fisher – Best General Fiction – Stormrise
The Grand Prize went to author Peter Alagona's The Accidental Ecosystem: People and Wildlife in American Cities (University of California)  explores the notion that with wildlife thriving in cities, we have the opportunity to create vibrant urban ecosystems that serve both people and animals. means to be wild, this book provides fascinating context for why animals are thriving more in cities than outside of them.