A Castle in Italy and a Magic Bowl of Pasta Inspire New Children's Book
Acclaimed Author, Diana Pishner Walker Writes New Book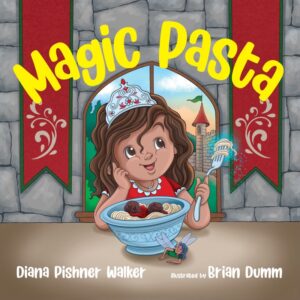 Terra Alta WV – New children's book, Magic Pasta, released by Headline Books, 2023 Independent Publisher of the Year, will be featured at The West Virginia Book Festival October 21, 2023 in Charleston WV.
"Magic Pasta is a charming new children's book about friendship," said Cathy Teets, President of Headline Books. "This is the sixth book I've published by Diana Walker and they are all award winners! She focuses on her Italian heritage in each book and they are loved by all."
"Magic Pasta is a fun story to read and listen to. The author turns a dinner into a magical kingdom which brings back fond memories of great family pasta dinners," said Carrie Menas owner of Colasessanos Pizza Fairmont, WV.
"This story left me with a smile because I realized there is a little bit of Princess Penne in all of us. At times we get lonely looking for a friend and "Poof" there's that friend as close as our pasta bowl," writes Marisa Minard – Minards Spaghetti Inn, family-owned in Clarksburg, W.V.
"Magic Pasta is a charming little story with equal parts pathos and Parmesan," writes Andrew Cotto, award-winning author and editor-in-chief of Appetito Magazine
Multi-award-winning author Diana Pishner Walker is a native West Virginian and of Italian descent. Her Italian roots run deep. Her maternal grandparents were from San Giovani in Fiore, Province of Cosenza, Italy. Her paternal grandparents were from Caulonia, Reggio Calabria Italy. She is the author of six award-winning books, Spaghetti & Meatballs: Growing Up Italian, The Christmas Feast: A Fishy Tale, Hop & Trot, and the Hopping to America Series. For more information visit DianaPishnerWalker.com.
Magic Pasta is available at your favorite local and online bookstores, ISBN 9781958914243, 32 pgs, PB, 8.5 x 8.5, Retail $13.95