Creative Child Magazine Announce 2023 Awards

2023 Book Awards Include Eleven Headline Books Titles!
Henderson NV-Creative Child Magazine Announces 2023 Book Awards honoring 11 Headline Books titles.
Winning the 2023 BOOK OF THE YEAR AWARD in their categories are:
I Would Love You Even If You Were A Coconut by Bucleigh Newton Kernodle – Kids Faith-Based Books category
Four Bears in a Box: Back to the Beach by Dreama Denver – Early Reader Imagination & Adventure Books category
Charlie Becomes a Red Dragon by Julia Black – Memoir Story Books for Kids category
A Tale for Christmas: Zach's Quest  by Matt Dragovits – Holiday Chapter Story Books category
2023 PREFERRED CHOICE AWARDS go to
Hop & Trot by Diana Pishner Walker – Kids Books On Friendship category
Corinne's Team by Dayle Dabney – Kids Story Books on Teamwork category
Adam's Cape The Missing Crew by Kaitlyn Dorroh – Kids Adventure Chapter Story Books category
Zen and Now by Dreama Denver – Kids Adventure Chapter Story Books category
Stinky Owl by Melanie Burgess -Kids Story Books category
2023 SEAL OF EXCELLENCE AWARD to
Tavey's First Hunt by Daniel Boyd – Kids Story Books category
Dr. Darcey by Tammy Donahue – Kids Mystery Story Books category
Creative Child Magazine's Awards Program is unique in that all products submitted are reviewed by moms, music educators and early education professionals. Products are not reviewed by any one person. They are reviewed by many people-the very people who purchase them.
Each year, a 2-day event is held in Henderson, Nevada where over a hundred guest reviewers are invited to attend our organized review event at our local convention center. All products are divided into categories and displayed at various review stations. Guest reviewers are asked to sit and review each products at one station and then move to another station and so forth and so on. This allows for each product to be given multiple reviews.
A review form is provided to each guest to aid them in evaluating each product. The review forms are to include written comments and a score value based on criteria that corresponds to the product's category.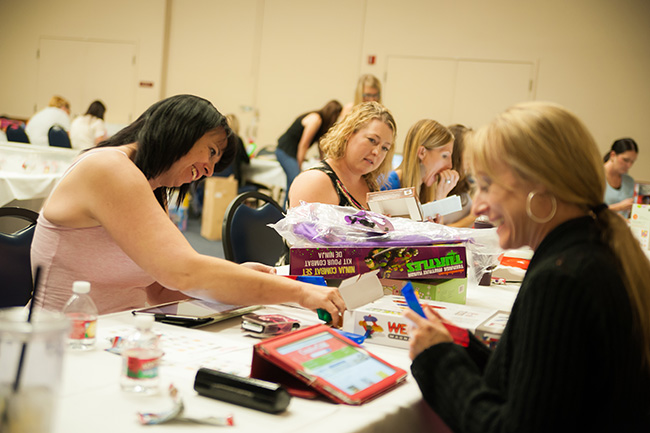 Upon completion of the event all review forms are collected by Creative Child Magazine staff assistants. All scores are tabulated and comments are reviewed.
Later, based on the scores and comments certain products are then determined to be a finalist for DVD, CD, Book, Game and Toy of the Year. Only one product per category can win a Toy of the Year award, as well as, CD, DVD, Book and Game of the Year. The remaining finalists receive a prestigious Preferred Choice award. The Seal of Excellence is another prestigious award that is given to those products that are not finalists but do exceed expectations based on the criteria for nurturing creativity and education in children.
All products submitted, including award winners, are officially announced on our website, www.creativechild.com.