Gilligan, Flying Possums, Broadway, Mystery and Intrigue Abound at the 2023 Southern Christmas Show
Meet Award Winning Best Selling Authors
Charlotte NC_ Headline Books, 2023 Independent Publisher of the Year, returns for the 5th year to the Park Expo and Conference Center for the 54th Annual Southern Christmas Show, November 9-19, in Charlotte, NC. Featuring 15 authors, including Grant Maloy Smith a Billboard Top 10 recording artist and MusicRow CountryBreakout charting songwriter of AMERICAN ROOTS music. His latest album, APPALACHIA: AMERICAN STORIES is getting rave reviews. Author of Fly Possum Fly and Possumbilities, Grant is a Mom's Choice Gold Winner and will be signing books in Shop 20 In Olde Town.
​Also featured is best-selling author and Huntersville, NC resident Ashley Belote signing her newly released book, Witch & Wombat (Random House).
Headline Books new releases include Four Bears Activity Book and her memoir Gilligan's Dreams: The Other Side of the Island by Dreama Denver, wife of the late Bob Denver of Gilligan's Island fame, Isle of Shadows by Don Stansberry,  Jan Thornton Jones , author of Last Letter to Gettysburg and Angel in City Park and The Unopened Present by Richard Battle. Broadway actress and acting coach, Kimberly Greenberg will be signing her new book, Business and Marketing Strategy for the Proactive Performer.
Popular North Carolina author, Bucleigh Newton Kernodle, will be signing her new book, The Pickles of Pickleton, along with her I Would Love You If series and local author Kim Wilson will be signing her new book A Dollar's Grand Dream (Page Street Kids). Author of The A to Zs of Mooresville NC History: Celebrating 150 Years Kaitlyn Dorroh and Charlotte Realtor and children's book author Angie Dixon will be signing her new release, The Snowman Project in Shop 20. Guest author Robert Russell (Charlotte) will be signing his books Carlisle Divided and Love One Another.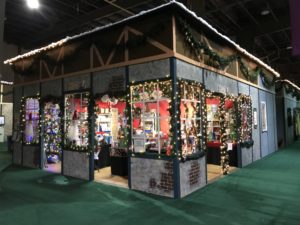 Authors include Historical fiction author Karl Stewart, military thriller writer Don Helin,  and Mom's Choice Award Winning children's book authors Julia Black and Tammy Donahue.
From its beginnings in 1967, the Southern Christmas Show has become a holiday tradition for families and friends throughout the region. One of the best-attended consumer shows in the nation, it annually attracts over 100,000 show guests ready to start the holiday buying season. Olde Town s filled with charming shops, festive music, smiling faces, crafts galore, yummy food, holiday decor, local wines, Santa, and over 400 holiday merchants with gifts for all ages!
The show covers a total of 250,000 square feet. Show guests are welcomed by an Olde Towne Village surrounded by arts and craft exhibitors. Commercial and food exhibitors fill two additional halls at The Park Expo and Conference Center. https://www.southernchristmasshow.com/
Featured Authors
Preview Night
Wednesday, November 8, 2023
5:00 p.m. – 9:00 p.m
Ashley Belote
Bucleigh Newton Kernodle
Angie Dixon
Kim Wilson
Thursday November 9
10:00 to 3:30
Ashley Belote
Angie Dixon
Bucleigh Newton Kernodle
Grant Maloy Smith
3:45 to 9:00
Ashley Belote
Bucleigh Newton Kernodle
Dreama Denver
Kim Wilson
Grant Maloy Smith
Friday November 10
10:00 to 9:00
Ashley Belote
Bucleigh Newton Kernodle
Dreama Denver
Angie Dixon
Don Stansberry
Grant Maloy Smith
Jan Thornton Jones
Karl Stewart
Tammy Donahue
Saturday November 11
8:00 to 2:00
Ashley Belote
Angie Dixon
Bucleigh Newton Kernodle
Dreama Denver
Don Stansberry
Grant Maloy Smith
Jan Thornton Jones
Karl Stewart
Robert Russell
2:15 to 8:00
Ashley Belote
Bucleigh Newton Kernodle
Dreama Denver
Don Stansberry
Grant Maloy Smith
Jan Thornton Jones
Karl Stewart
Sunday November 12
10:00 to 6:00
Ashley Belote
Bucleigh Newton Kernodle
Dreama Denver
Don Stansberry
Grant Maloy Smith
Karl Stewart
Monday November 13
10:00 to 6:00
Ashley Belote
Angie Dixon
Bucleigh Newton Kernodle
Dreama Denver
Don Stansberry
Karl Stewart
Kim Wilson
Tuesday November 14
10:00 to 6:00
Ashley Belote
Angie Dixon
Bucleigh Newton Kernodle
Dreama Denver
Don Helin
Don Stansberry
Karl Stewart
Wednesday November 15
10:00 to 6:00
Ashley Belote
Bucleigh Newton Kernodle
Dreama Denver
Don Helin
Karl Stewart
Kimberly Greenberg
Thursday November 16
10:00 to 3:00
Ashley Belote
Bucleigh Newton Kernodle
Dreama Denver
Julia Black
Karl Stewart
Kimberly Greenberg
3:15 to 9:00
Ashley Belote
Angie Dixon
Bucleigh Newton Kernodle
Dreama Denver
Karl Stewart
Kimberly Greenberg
Kim Wilson
Friday November 17
10:00 to 3:00
Ashley Belote
Bucleigh Newton Kernodle
Dreama Denver
Julia Black
Karl Stewart
Kimberly Greenberg
Richard Battle
3:15 to 9:00
Ashley Belote
Angie Dixon
Bucleigh Newton Kernodle
Dreama Denver
Karl Stewart
Kimberly Greenberg
Richard Battle
Saturday November 18
10:00 to 3:00
Ashley Belote
Angie Dixon
Bucleigh Newton Kernodle
Dreama Denver
Julia Black
Karl Stewart
Kimberly Greenberg
Richard Battle
3:15 to 9:00
Ashley Belote
Bucleigh Newton Kernodle
Dreama Denver
Karl Stewart
Richard Battle
Sunday November 19
10:00 to 6:00
Ashley Belote
Angie Dixon
Bucleigh Newton Kernodle
Dreama Denver
Richard Battle