Headline Books Tops 1,000 International and National Book Awards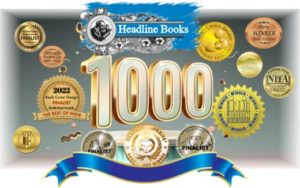 FOR IMMEDIATE RELEASE
DATE: 09/02/2023 
Terra Alta, West Virginia – Headline Books announced today their books have topped winning over 1,000 national and international book awards.
Established in 1988, the West Virginia based independent book publisher, publishes fiction, nonfiction, and children's books. With over 500 titles in print, Headline Books authors can be seen at major events across the United States signing books in the Headline Books booth. Recent events include ALA— the American Library Association National Conference in Chicago IL at McCormick Place.
Upcoming events include the Preston County Buckwheat Festival September 28- Oct 1 in Kingwood, WV, the West Virginia Book Festival October 21 in Charleston, WV, and the Southern Christmas Show, Nov 9 – 20 at the Park Expo Convention Center in Charlotte, NC.
Headline authors have visited over 3,100 schools across the United States and speak at literary conferences.
Awards include Grand Prize Winners in London, Paris, New York. A Pulitzer Prize nominee, two movie options, Eric Hoffer Finalist, ForeWord Review Book of the Year Finalist, Mom's Choice Award Gold Winners, Creative Child Magazine Book of the Year Awards, Next Generation Book Awards, Moonbeam Award, Readers' Favorite Awards and many more.
Cathy Teets, President of Headline Books, has been named Independent Publisher of the year 2010-2011, 2013-2018, 2020, and most recently 2023.
"Our authors are exceptional and our production staff and editorial division are top notch," said Cathy Teets, President. "Publishing books is a fascinating and rewarding business and we all look forward to future successes!"
For more information and to see award-winning titles visit www.HeadlineBooks.com
CONTACT: Cathy Teets – President – cathy@headlinebooks.com
-30-