London Book Festival 2018 Awards Announcement
Headline Books New Releases Win 7 Awards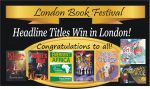 LONDON–Honoring the best in International Publishing, The London Book Festival announces awards for 2018. Included are seven new titles from Headline Books.
Fly Possum Fly by recording artist, Grant Maloy Smith, takes top honors as Winner for Best Children's Book. Possums save the day when Santa's reindeer can't make the trip on Christmas Eve. Based on the song by the same name, Grant recorded this song with emerging talent EmiSunshine. Grant Maloy Smith will be a featured author at the June 2019 ALA National Conference in Washington D.C. and continues his concert tour in the U.S.
Runner Up honors go to author Sabrina Runyon and illustrator, Ashley Teets, for Sabrina's Book for Best Children's Book. This title is also a recent Gold Mom's Choice Award recipient.
Emergent Africa by author Francis Mangeni and the late Celestous Juma also wins Runner Up honors for Best Business Book.
Award winning thriller writer, Richard Hatin, wins Runner Up for Best Genre Fiction with his new release, Next In Line. This is the first of a series, Taking Up the Sword, for young adult readers.
Honorable Mentions go to: Eliot Parker for A Knifes' Edge, a fast moving tale of terrorism in the West Virginia capitol city for Best Genre Fiction; Mom's Choice Gold Recipient Kim Wilson and illustrator Ashley Teets for Ollie the Owllama, a humorous story of a blended family that includes owls and llamas; and to well known children's book author, Alan St, Jean, for his first foray into adult fiction with his novel, Klaus Revelation, for Best General Fiction.
Winners of the competition will be honored at an awards reception in London.