London Book Festival Announces 2023 Awards!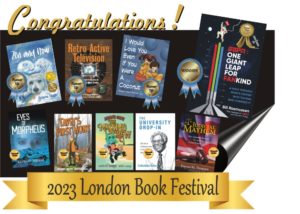 LONDON–Honoring the best in International Publishing, The London Book Festival announces awards for 2023.
Entries are judged by a panel of publishing industry experts looking for general excellence and the author's passion for telling a good story and the potential of the work to gain a wider audience in the worldwide market.
2023 Winner for Best Compilation/Anthology is Bill Rasmussen, author of ESPN: One Giant Leap for FANkind.
Retro Active Television by Herbie J Pilato is Runner Up for Best Nonfiction.
Zen and Now by author and actress, Dreama Denver, is Runner Up for Best Children's Book and I Would Love You Even If You Were a Coconut by Bucleigh Newton Kernodle also wins Runner Up for Best Children's Book.
Honorable Mentions go to:
Adam's Cape by Kaitlyn Dorroh – Best Children's Book
Tavey's First Hunt by Daniel Boyd – Best Children's Book
The University Drop-In by Celestous Juma – Best Memoir
Judicial Mayhem by David M. Dorsen – Best Nonfiction
Eyes of Morpheus by Kevin D. Miller – Best Genre Based Book