Los Angeles Book Festival Announces 2021 Awards
Headline Titles Win 12 Awards!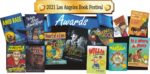 LOS ANGELES_A spiritual journey and love story is the winner of the 2021 Los Angeles Book Festival, which honors the best of the world publishing community. Author Steven Manchester's "The Menu" (Luna Bella Media) is the story of Phinn Reed, who enters the world with the promise of finding his soul mate. With heaven's memories erased, his romantic quest teaches him that the heart often sees clearer than the eyes, and that not everyone has ordered the same items from The Menu. This inspirational love story is heartfelt evidence that love stories come in many different forms.
All submission were judged by a panel of publishing industry experts based on general excellence and the author's passion for telling a good story, and the potential of the work to gain a wider audience in the worldwide market.
Winning Headline titles are:
Amid Rage – Runner Up Best Genre Fiction
Kindergarten Kapers – Winner in the Sequels Category
I Would Love You Even If You Burned the Christmas Turkey – Winner Best Children's Book
Honorable Mentions for
Gilligan's Dreams – Best Memoir
Gorilla Tales – Best Memoir
Heart of a Lion – Best Memoir
White Skies Black Mingo – Best General Fiction
Wandala – Best Science Fiction
If I Were A Pony – Best Children's Book
Willie: A Super Friend – Best Children's Book
Sabrina's Book – Best Children's Book
You Sound Amazing – Wild Card Category