LOS ANGELES BOOK FESTIVAL HONORS CLASSIC TELEVISION INSIGHTS WITH TOP AWARD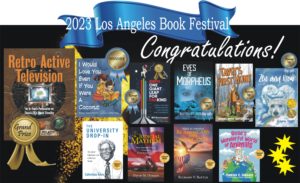 LOS ANGELES_ A study of classic television and how it has shaped society is the winner of the 2023 Los Angeles Book Festival, which honors the best of the world publishing community.
Author Herbie J Pilato's Retro Active Television (Headline Books) explores the world of classic television, showing us what the programmers were thinking in the creative and programming process. Written by an author whose knowledge of popular culture is among the world's finest, the book offers fresh insight into some of television's favorites. For fans of the medium, it's a journey that enlightens and entertains.
The Los Angeles Book Festival judged major publisher, independent publisher, and self-published works in the following categories: general non-fiction, fiction, biography/autobiography, children's books, young adult, how-to, cookbooks, science fiction, business, wild card (anything goes!), compilations/anthologies, sequels (for books that are part of a series), photography/art, poetry, romance, and regional literature published on or after January 1, 2020.
Submitted works were judged by a panel of publishing industry experts using the following criteria:
General excellence and the author's passion for telling a good story and the potential of the work to gain a wider audience in the worldwide market.
Other Headline winners in the competition:
Winner for Best Children's Book – I Would Love You Even If You Were A Coconut by Bucleigh Newton Kernodle
Runner UP Best Compilation – ESPN: One Giant Leap for FANkind by Bill Rasmussen
Runner Up Best Children's Book – Zen and Now by Dreama Denver
Runner Up Best Children's Book – Tavey's First Hunt by Daniel Boyd
Runner Up Best Genre Based – Eyes of Morpheus by Kevin D. Miller
Honorable Mentions to: David M. Dorsen for Judicial Mayhem – Best Nonfiction, Richard V. Battle for Made in America by AmeriCANS Not AmeriCANTS -Best Spiritual/Inspirational, Celestous Juma for The University Drop-In – Best Memoir, Cynthia Dobbins for Rose's Wonderful World of Animals – Best Children's Book.