Museum Shop to Host Book Launch for "Through Children's Eyes" on Aug. 29, 2017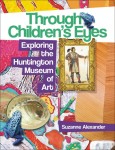 August 15, 2017 
Contact: (304) 529-2701  
Huntington, WV -The Museum Shop at the Huntington Museum of Art will host a book launch for "Through Children's Eyes: Exploring the Huntington Museum of Art" by Suzanne Alexander on Tuesday, Aug. 29, 2017, from 4 to 6 p.m. Refreshments will be served. 
Suzanne Alexander, a longtime docent and former Museum Making Connections outreach teacher for the Huntington Museum of Art, will be on hand to sign copies of the book, which will be available for purchase from The Museum Shop. The book, which is published by Headline Books, is dedicated to HMA's Docents. Suzanne considers the docents to be "gems of the museum who bring art alive to all who enter its doors." 
Throughout her varied career as a writer, teacher, librarian, and docent, Suzanne has shared her love of reading, writing, and art with young people. A book about the Huntington Museum of Art for children seemed like the perfect combination to her. "The museum has an amazing array of catalogs about their collection that are of interest to adults," Suzanne explains. "Now the museum has a book that children of all ages will enjoy that discusses the elements of art (color, line, shape, texture, etc.) in relation to special objects in the museum. Children also discover a tidbit about the artists in their youth." 
"It took a few years to bring all the ideas together," Suzanne says. "Then I submitted the finished manuscript to the award-winning independent publisher, Headline Books, and it was accepted for publication. I am thrilled with how the book turned out.  Ashley Teets, the Art Director, and Lucas Kelly, the graphics designer, did an amazing job with the book." 
For more information on events at the Huntington Museum of Art, visit www.hmoa.org or call (304) 529-2701. HMA is fully accessible. 
West Virginia residents may obtain a summary of the registration and financial documents from the Secretary of State, State Capitol, Charleston, WV 25305. Registration does not imply endorsement.