New Children's Book inspired by Kentucky Wrestler with Cerebral Palsy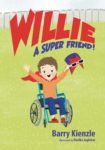 Terra Alta WV—Willie: A Super Friend, by award-winning author, Barry Kienzle, is a new release from Headline Books, 2020 Independent Publisher of the Year.
Author Barry Kienzle decided a children's book based on famed high school wrestler, Willie Burton, who was born with cerebral palsy would inspire others to accept those who are different. When he was young, Willie was challenged with being accepted by other children as their equal because they either didn't understand his disability or were afraid he would get hurt playing with them. He learned to cope, mostly by showing them in many ways he was their equal on the playground.
Kienzle, with Willie and Brenda Burton, wrote the story of Willie Burton in the multi award-winning book, Heart of a Lion. With the support of his adoptive mother, Willie  signed up for the wrestling team at Fairdale High School where he was accepted by the team as an equal, later gaining national attention for his perseverance in order to win a single match on the mat. Heart of a Lion is an inspiring story overcoming life's hardships through faith and courage.
"High school can be a tough time in a person's life. It can be hard to fit in, find friends, and most importantly find yourself. For Willie Burton, after a life of growing up different from his friends, walking different, talking different, he wasn't sure what he was going to find at Fairdale High School. But what he found was just what he needed. Besides a musty training room where he felt at home, he also found a brotherhood of teammates. Willie's story is one that we all can learn from. And there is a reason that Willie walks and talks differently than others—he is a wrestler. And he's earned the distinction," writes Dan Lindberg, Feature Producer – E:60 | ESPN
Barry Kienzle is an award-winning author who has also written two historical fiction novels, The Crossings, and The Indian. He decided to venture into writing this children's book based on the stories Willie told him about the difficulties handicapped children have being accepted by other children even on the playground.
Available at your favorite local and online bookstore. For a review copy contact cathy@headlinebooks. For interviews and personal appearances contact the author at Books by Barry Kienzle – www.barrykbooks.com – 859.630.7516
 Willie A Super Friend ISBN 9781951556495, 32 pages, 7 x 10, hc, Retail $16.95