NEW YORK BOOK FESTIVAL ANNOUNCES 2022 AWARDS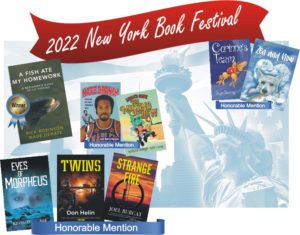 Headline Titles Take Eight Awards!
NEW YORK_The 15th annual New York Book Festival has named their 2022 award winners and finalists. Judges consider published and independent publisher non-fiction, fiction, children's books, young adult, how-to, poetry, wild card (anything goes!), unpublished stories, science fiction/horror, photography/art, spiritual, business, romance, cookbooks, compilations/anthologies and biography/autobiography works.
A panel of judges determined the winners based on the story-telling ability of the author and the potential of the work to win wider recognition. Entries were in English, Spanish, French or Italian and had to be published on or after January 1, 2018. The grand prize for the 2022 New York Book Festival Author of the Year is a $1,500 appearance fee for our annual awards program.
Grand prize winner in this year's competition is from author David Casentini's Molly's New Pony, Sir Wallace McGee: A Story of Courage to be Be All You Can Be! (LitPrime Solutions) tells the story of a young girl who, on her 11th birthday, gets what she's always wanted – a pony! Casentini wins the grand prize of $1,500 and will be honored at a later date in New York. Other winners in the competition include:
GENERAL FICTION:
HONORABLE MENTIONS:
Strange Fire – Joel Burcat (Headline Books)

Twins – Don Helin (Headline Books)
CHILDREN'S BOOKS:
HONORABLE MENTIONS:
Adams Cape: The Missing Crew – Kaitlyn Dorroh (Headline Books)

Zen and Now – Dreama Denver (Headline Books)

Corrine's Team – Dayle Dabney (Headline Books)
BIOGRAPHY/AUTOBIOGRAPHY/MEMOIR:
HONORABLE MENTIONS:
SCIENCE FICTION/HORROR:
HONORABLE MENTIONS:
HOW-TO
WINNER: A Fish Ate My Homework – Rick Robinson and Wade DeHate (Headline Books)