Paris Book Festival Announces 2022 Awards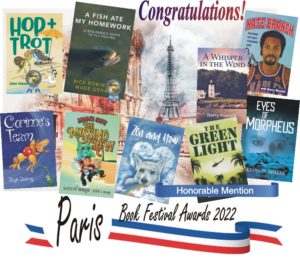 Paris _ The 2022 Paris Book Festival announces awards honoring the best of international publishing.
Submitted works were judged by a panel of publishing industry experts using the following criteria:   General excellence and the author's passion for telling a good story and the potential of the work to gain a wider audience in the worldwide market.
Headline titles won the following awards.
BIOGRAPHY/AUTOBIOGRAPHY/MEMOIR
HONORABLE MENTIONS:
Nate Branch: Playing My Way Through Life – Nate Branch with Barry Kienzle
GENERAL FICTION
HONORABLE MENTIONS:
Eyes of Morpheus – Kevin D. Miller
The Green Light – Karl Stewart
Whisper in the Wind – Barry Kienzle
GENERAL NON-FICTION
RUNNERS-UP:
A Fish Ate My Homework – Rick Robinson and Wade DeHate
CHILDREN'S BOOKS
RUNNER-UP:
Hop & Trot – Diana Pishner Walker
HONORABLE MENTIONS:
Corrine's Team – Dayle Dabney
Adam's Cape: The Missing Crew – Kaitlyn Dorroh
Zen and Now – Dreama Denver
The 2022 Paris Book Festival has tapped a memoir of a woman's struggle to find acceptance and her own path as the grand prize winner of its annual competition, which honors the best of international publishing. Author Allison Hong Merrill's Ninety-Nine Fire Hoops.