Riveting Memoir New Release - From Army Regulations to Novels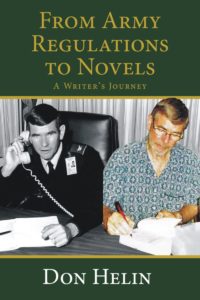 In less time than it takes to run a hundred-yard dash, Don Helin's life is shattered with the stunning news of an illness—triggering numbness, shock, confusion, and despair.
In a fast-paced memoir that reads more like one of his thriller novels, Helin leads us through his journey while weaving into the narrative of his military life the chaos of Vietnam, Watergate, the Cuban Missile Crisis, and political intrigue in the Pentagon.
Finding himself on the threshold of the five steps of grief, he considers the different roads he might have traveled.  He enters a National Cancer Institute study protocol designed for Vietnam veterans with health issues caused by Agent Orange.  Will the results of this study help the many veterans who suffer from Agent Orange-inflicted diseases?
With the help of his wife and others and his own strength of human spirit, Helin considers changing priorities in his life, which might lead to a different conclusion.
Is it too late to make changes, or must he simply play out the hand he's been dealt?
Don Helin is the author of six thrillers that draw from his military experience. He writes for TheBurg, a community magazine based in Harrisburg. Don Helin is the multi award-winning author of Devil's Den, Secret Assault (Indie Book Award), Angel's Revenge, Long Walk Home,  Roof of the World (Indie Book Award), and Missing (Indie Book Award). Don Helin is a Zoom Into Books Author.
From Army Regulations to Novels: A Writer's Journey by Don Helin, ISBN 9781951556754, 6 x 9, 112 pages, pb, Retail $16.95