The 2022 Los Angeles Book Festival Announces Awards
Headline Titles Win 9 Awards!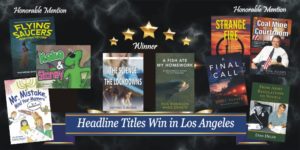 LOS ANGELES _ The 2022 awards are announced for the Los Angeles Book Festival which honors the best works of the world publishing community in the following categories: general non-fiction, fiction, biography/autobiography, children's books, young adult, how-to, cookbooks, science fiction, business, wild card (anything goes!), compilations/anthologies, sequels (for books that are part of a series), photography/art, poetry, romance, and regional literature.
Entries were judged by a panel of publishing industry experts looking for general excellence and the author's passion for telling a good story, and the potential of the work to gain a wider audience in the worldwide market.
Headline Books titles were recognized with the following awards:
Winner Best How To Book – A Fish Ate My Homework by Rick Robinson and Wade DeHate
Winner Best Compilation – COVID-19: Science VS. The Lockdowns by Michael Betrus
Honorable Mentions to:
Coal Mine to Courtroom by W. Ron Adams with Fred Anderson – Biography / Memoir
From Army Regulations to Novels by Don Helin – Biography / Memoir
A Final Call by Eliot Parker – Genre Fiction
Strange Fire by Joel Burcat – Regional Fiction
Flying Saucers: From Venus They Come by Dr. Raymond A. Keller – Compilations
Koko & Stoney by Don Stansberry – Children's Books
Mr. Mistake: Manners in a Restaurant by Lisa Butowsky and Donna Bostany – Children's Books
You can meet these Headline Books authors on the Zoom Into Books YouTube Channel!
The story of a young man's immersion in the gang culture of San Diego is the Grand Prize Winner of the 2022 Los Angeles Book Festival. Author Jonas Royster's Young Adult novel Bangin' The Making of a Y.G. (Paradise Publishing) illustrates the hardships of living day to day in the trenches of gang culture. Told through multiple lenses, the novel explores each character's unique experience in the gang lifestyle and the consequences they must face in the streets.