Zach's Quest: A Tale for Christmas Released by Headline Books
For immediate release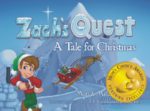 Terra Alta WV – A North Pole story for the middle grade crowd that will bring a light to your heart as you read this wonderful Christmas story by award-winning authors Matt and Melanie Dragovits.
The Star of Bethlehem provides energy to power Santa's Winter Workshop. But when a young elf named Zach accidentally breaks the Divine Reactor, he must go on a quest to Mount Frostbite to retrieve a new magic gemstone. In a race against time, he must overcome his fears, battle evil goblins, and make the ultimate sacrifice to save the Christmas holiday.
This beautiful children's fantasy book was illustrated by J.J. Varabkanich & Irma Torre, both Disney illustrators, and it reinforces important family values while using heartwarming Christmas characters to remind children of the real "Reason for the Season."
"Matt's book channels the heart and warmth seen in the Rankin/Bass Productions' Christmas specials and films. In our ever-changing world, Christmas stories like these are welcomed by parents and children everywhere!" writes Rick Goldschmidt, Official Rankin/Bass Productions Historian/Biographer.
"This is a timeless tale of the beauty that is the spirit of Christmas.  It is not only captivating for children, but adults as well," writes Terry Delaney, Pastor/Book Critic.
Matt and Melanie Dragovits are kids-at-heart who live in the Chicagoland area with their three amazing children. Matt is a nationally recognized video producer and author and Melanie is a certified teacher. When they are not busy running their video production company, they are writing, drawing, modeling in 3D, and finding other fun ways to breathe life into their characters. Zach's Quest is a recent Gold Mom's Choice Award Winner. Matt Dragovits is also a Zoom Into Books Author and will be a featured author at The Southern Christmas Show in Charlotte, NC November 2021.
For interviews, speaking engagements, school visits, please visit www.ethos-studios.com
Zach's Quest: A Tale for Christmas, ISBN 9781951556280, 11 x 8.5, HC, Retail $16.95