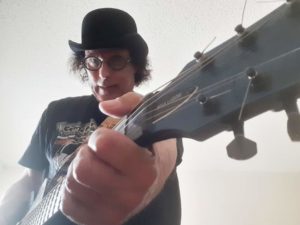 Dave Shelton
Headline Kids, Fiction, Middle Grade, West Virginia Authors/Illustrators
Film and television writer/director/cartoonist/voice actor/author/musician
Zoom Into Books Author
Dave, an award winning film and television writer, cartoonist, author, musician, voice actor and freak nerd, has had his writing compared to the likes of Ray Bradbury and David Lynch and his cartoon work to that of Charles Schulz, one of Dave's idols. As senior writer and head of cartoons at National Lampoon, he put out two best-selling cartoon collections while handling writing and cartooning for the flagship magazine. He was also involved with Comic Relief. His early work includes art and design for Nickelodeon's "Double Dare" and MTV and art for Tim Allen and Robert Wuhl's HBO specials. As a cartoonist and writer for Tiger Beat's Superteen Magazine he created the popular cartoon Toon Groupies©. Dave is also the creator of the popular Hackidu characters from "Everybody Loves Raymond."
Dave illustrated the award winning children's book, The Lemming Shepherds, which is being adapted into a feature film. He also illustrated and helped edit the book Full Frontal Tenudity from famed comedienne Judy Tenuta. Dave's humor book, Brain Explosion, a collection of his cartoons and writings from his National Lampoon days has become a big seller and is available on Amazon and Barnes and Noble.
His kids TV special, "Professor Creepy's Scream Party(c)," starring some of horror's most iconic figures, was one of the most watched specials on Roku for Halloween, 2018. Professor Creepy has secured a deal memo with a national TV network. Dave's documentary, "From Cheesecake to Cheesecake: The Joy Harmon Story" (WGAw), about the life of 1960s film/TV icon Joy Harmon, has won numerous festival awards around the world.
Dave's sitcom special, "Against Type," starring Roland Kickinger (Terminator Salvation), Stephen Furst (Animal House) and ICarly's Jennette McCurdy, aired domestically in over forty US markets including NBC. His voice work can be heard on the SyFy Channel films "Path of Destruction" and "Lake Placid vs. Anaconda" and in the animated series "Alien House," co-starring Kim Possible's, Christy Carlson Romano, and the new series "Cozmo's." In October, 2016, Dave's song, "I am A Zombie," charted on kids syndicated radio network JenniRadio. Dave also played guitar on the single, "Running," by actor Larry Thomas (Seinfeld's Soup Nazi).
Taking a break from crazy LA and proving you don't have to live there to produce on a major level, Dave relocated to historic Sistersville, West Virginia for a gig as a features and investigative reporter for a newspaper. While there, he began producing and hosting a national horror radio show, Cemetery GoGo(c), on WRSG 91.5 FM out of Tyler County, on Dec. 14th, 2019. It has since become one of the most popular shows on the station. True to his book title, Brain Explosion (which has become a permanent part of the West Virginia library system), Dave has not stopped creating. He has begun an audio podcast on Spotify and has several animated and live action series and film projects also in the pipeline.
Other credits:
Dave has worked with legendary bands Cheap Trick and The Dickies and his cartoon work is part of the Charles M. Schulz (Snoopy) museum in Santa Rosa, CA and the Haig Museum of Cartoons in New York. He is the former song writing partner of the late Albert Hague (Fame, How the Grinch Stole Christmas) and is a direct descendent of Vlad the Impaler (inspiration for Dracula). Dave is an avid golfer and athlete and got to coach basketball with legendary UCLA coach Jim Harrick and former LA Lakers and Clippers coach Mike Dunleavy.
Books by Dave Shelton