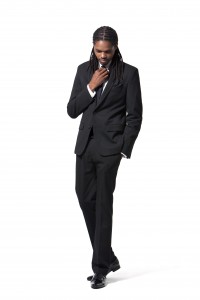 Landau Eugene Murphy Jr
Biographies / Memoirs
Landau Eugene Murphy, Jr.
Zoom Into Books Author
Landau Eugene Murphy Jr and Rick Robinson with guest interviewer Burke Allen of Allen Media Strategies – Coming Soon to Zoom Into Books YouTube
Mini Concert – Landau Live in Logan – Watch HERE on YouTube!
In November 2010, Landau Eugene Murphy, Jr. and his wife Jennifer left their hometown of Logan, WV for New York City, where they stood for over twelve hours outside the Jacob Javits Convention Center in Manhattan. They were among the thousands of people-young and old, singers, dancers, jugglers, mimes, and more – lined up to audition for NBC's America's Got Talent. It would take several more hours for Landau to finally get inside and sing a few bars, and his day grew even longer as he sang for one producer after another. Soon, he was the last one sitting in a huge rehearsal hall.
The rest as they say is history. After receiving standing ovations from judges Sharon Osbourne, Piers Morgan and Howie Mandel, singing a sizzling duet with the iconic Patti LaBelle, and crooning a rousing rendition of "My Way," Landau Eugene Murphy Jr. was named winner of America's Got Talent's sixth season on September 14, 2011. Just in time for Christmas 2011, Syco/Columbia Records released Landau's first album, "That's Life" and it debuted at number one on the Billboard jazz charts and the top 40 overall. Not only did his unique singing style make him stand out from all of his competition, Landau's humility, charm and confidence endeared him to the America's Got Talent judges, viewers, and audiences at his sold-out concert tour that launched in December 2011 and is still going strong. As part of his America's Got Talent prize, Landau realized a lifelong dream and headlined a show at the Colosseum Theater at Caesar's Palace in Las Vegas-the legendary playground for Sinatra and his iconic Rat Pack. Other tour stops include the Apollo Theatre, the DTE Energy Center in Detroit with Motown's Temptations, headlining appearances at the West Virginia and California State Fair, a Super Bowl appearance, a televised performance at The Hollywood Christmas Parade and a string of sold out headlining shows across the USA (many supporting local charities). Major media appearances have included The Today Show, Anderson Cooper, The View, The Talk, The Wendy Williams Show, Fox and Friends, CNN, The Tom Joyner Show, Scott and Todd on WPLJ, Good Day LA, and many more. He's also honored his country by singing the National Anthem at Madison Square Garden, West Virginia University's Mountaineer Field, prior to a WVU/LSU matchup and at several other public events.
"My father was a coal miner and he really loves music; my mother is from a musical family, too. After my parents split up when I was 8, I moved with my mother and two brothers and two sisters to Detroit," Landau explains. "It was completely different from Logan; I had to get used to the streets. My focus wasn't on school." He dropped out in the 11th grade to put his energy into looking out for the safety of himself and his family. "Church and basketball were the only things that got me out of the house and kept me going. I played for a church league, which kept me off the streets and they would take us to events where we could eat. Basketball was my first love and I grew up playing basketball with some great ballplayers like NBA star Chris Webber. There were times when I'd make a shot or dunk on someone and I'd run back down the court with a smile on my face singing 'Fly Me To The Moon,' everyone got a big kick out of it."
After moving back home to Logan in the late 1990's, Landau renewed a friendship with a childhood friend, Jennifer Carter. They started working together at a restaurant where she was a manager and they finally married in 2005. The proud husband and father of five says, "I love my kids and my wife with all my heart, more than anything, I want to make sure they don't have the same struggles I have. I want them to have more opportunities. I want them to be able to do what they want to do."
Despite going from washrags to riches, "I'm still happiest when I'm with my family," says Landau. "I like it when there is no stress and I'm doing what I want to do-which is to sing."
Books by Landau Eugene Murphy Jr