Spring Fling Author Celebration!
1st Anniversary of Zoom Into Books
Interactive Presentations, Workshops, Author Readings! Trivia and Prizes during the Spring Fling Events!
Headl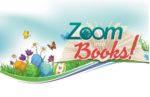 ine Books invites you to meet the best of  the best of award-winning authors up close and personal from the comfort of your own home!
Join our Headline Authors for a fun and educational video presentation during the stressful times our country is going through. Staying at home can be challenging for some, so take a time out and meet our award-winning authors, close up and at home!
We have a wide variety of programs by age or by subject. Using video Zoom, you can interact with the authors, ask questions, and even do crafts!
You will also have an opportunity to purchase an autographed book if you wish, and watch the author personalize it to you or your child.
Click on

Register HERE

to register for Zoom Events
Zoom Into Books events can be seen on Facebook Live!  Zoom Into Books, Headline Books, and Author's Facebook Pages – no need to register
Spring Fling Author Celebration!
Thriller Night – Rick Robinson, Don Helin, and Eliot Parker discuss books, their new forthcoming books, writing tips and more. Trivia and Prizes! Watch Here
Fiction 
Rick Robinson, W. G. Griffiths, Tony Hylton –  discuss books, events, writing tips and more.  Watch Here
Dave Shelton and Jan Thornton Jones discuss books, events, writing tips and more.  Watch Here
Don Helin, Joel Burcat, and Dennis Hetzel Watch Here
Kevin D. Miller, Richard Hatin, and Karl Stewart Watch Here
Karl Stewart and Lee Doty Watch Here
Nonfiction 
Dreama Denver, Joe Coleman, and Don Helin Watch Here
Jeff Weber, Stevie Dupin, and Don Helin –  discuss books, events, writing tips and more. Trivia and Prizes! Watch Here
Dr. Raymond Keller, Ufologist, discusses his book series. Watch Here
Lisa McCombs and Heather Dugan Watch Here
Heidi Ruby Miller and Contributors of Many Genres One Craft: Lessons in Writing Popular Fiction Watch Here
Children's Books
Suzanne Alexander, Millie Snyder, and Eileen Cooley Watch Here