Zoom Into Books Meet the Authors - Autographed Books!
12-31-2021 to 12-31-2022



Below is our list of authors who participated in our first Virtual Meet the Authors Extravaganza on Facebook Live ! We have autographed books so you can work on your gift list all year long!
Click on the Author links to meet these award-winning authors and watch their interviews!
Featured Authors
Children's Book Panel and Readings –Watch Interview Here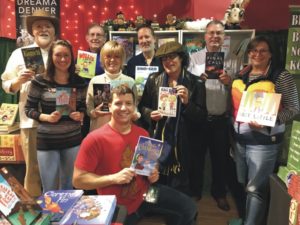 Suzanne Alexander -Tip of the Tale
Sabrina Runyon – The Sabrina Series
Diana Pishner Walker – Spaghetti & Meatballs: Growing Up Italian 
Middle Grade Readings and Discussion – Watch Interview Here
Barry Kienzle – The Crossings, The Indian
Lisa McCombs – Bombs Bursting in Air, Praise Petals
Don Stansberry – Inky & the Missing Gold, Inky Oglebee & the Witches
Middle Grade Readings and Discussion -Guest Interviewer Burke Allen – Watch Interview Here
Danny Boyd – The Adventures of Wandala
Dave Shelton – Bag Boy and Sweet Slob
Children's Book Panel and Readings –Watch Interview Here
Dayle Dabney – Corinne's Fin
Rusty McQuade – The Tattletale Bathtub
Barry Kienzle – Willie: A Super Friend
Thriller Night with – Guest Interviewer Rick Robinson – Watch Interview Here
Dennis Hetzel – Season of Lies and Killing the Curse
Joel Burcat – Drink to Every Beast
Eliot Parker – Knife's Edge
Don Stansberry – Secret Blood, Vulture Bend
Voices From The Pandemic –Watch Interview Here
Don Helin – Indie Book Award Winner
Dreama Denver – Actress and widow of Bob Denver of Gilligan's Island
Joe Coleman – Former Lead Singer of The Platters
 
Hopping to America Series with – Watch Interview Here
Diana Pishner Walker
Children's Book Panel and Readings – Watch Interview Here
Dreama Denver – Four Bears in a box
Krystian Leonard – Shining Scars
Colleen Driscoll – Piper the Elf and Santa's Rockin' Band
Thriller Night with Moderator Rick Robinson – Watch Interview Here
Rick Robinson – Opposition Research
Don Helin – Missing
Tony Hylton – Enough
Children's Book Panel and Readings – Watch Interview Here
Melinda Chambers – Fraidy Cat
Susan Harper – Maple Leaf Adventure
Possum-Mania with Grant Maloy Smith – Watch Interview Here
Children's Book Readings – Watch Interview Here
Len Eckhaus – If I Were A Pony
Bucleigh Newton Kernodle – I Would Love You Even If You Burned the Christmas Turkey
Kelsey Clark – Special Day
Angie Wilson – Gracie Mystery Series and Gracie Guides – Watch Interview Here
 Historical Fiction and Mystery with Guest Interviewer Burke Allen – Watch Interview Here
Karl Stewart – Kiamichi
Kevin Miller  – White Skies Black Mingo
Lee Doty – Tidal Kin
The Ascension Series – Middle Grade – with Lauren Hudson Watch Interview Here
Fiction Writers and Editors Discussing COVID-19 and our Books – Watch Interview Here
Joel Burcat  – Drink to Every Beast, Amid Rage
Don Helin – Devils Den, Secret Assault, Angel's Revenge, Long Walk Home, Roof of the World, Missing
Jason Liller
Students Leading America Series – Our Best Tomorrow, It Can Be Done with Robert Hudson and Lauren Hudson – Watch Interview Here
The Venus Rising Series with Dr. Raymond Keller – Watch Interview Here
Lynn Salsi – The Appalachian Jack Tales Series – Watch Interview Here
Self Help authors – Watch Interview Here
Heather Dugan – The Friendship UpGrade
Joy E. Held – Writer Wellness
David Selby reading – Promises of Love,  Casualty of Indifference
with Guest Interviewer Burk Allen – Watch Interview Here
Music and Movies  with Guest Interviewer Burke Allen – Watch Interview Here
Jeff Weber – You Sound Amazing
Don McLeod – Gorilla Tales
Back to Nature Series with Melinda Chambers – Watch Interview Here
Chicks and the City with Matt Browning — Urban Farming – Watch Interview Here
Barry Kienzle – Heart of a Lion – Watch Interview Here
Dreama Denver  (Gilligan's Dreams: The Other  Side of the Island) with guest interviewer Burke Allen – Watch Interview Here
Christmas Children's Books with – Watch Interview Here
Grant Maloy Smith – Fly Possum Fly 
Colleen Driscoll – Piper Rides a Reindeer
Diana Pishner Walker – The Christmas Feast: A Fishy Tale  and more
Zach's Quest and panel discussion with author Matt Dragovits, Disney illustrator Jeffrey Varabkanich and award-winning illustrator Ashley Belote – Watch Interview Here
5:00 pm ET – (writer-director), Susan Pepper (producer and musician), Dan Gellert (musician and actor), Trevor McKenzie (composer), Ma Crow (musician and actress), Gloria Raheja, Ph.D. (Professor of Anthropology, Univ. of Minnesota) – Watch Interview Here
Music, Music. Music! Panel Discussion with Guest Interviewer Burke Allen – Watch Interview Here
Landau Eugene Murphy Jr – (Winner America's Got Talent) From Washing Cars to Hollywood Star 
Joe Coleman (The Platters) – My Time to Shine
Joe Blunt – (The Drifters) – My Time to Shine 
Jeff Weber – You Sound Amazing
Pat DiCesare – Hard Days Hard Nights