The San Francisco Book Festival announces 2020 Awards!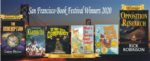 SAN FRANCISCO -The San Francisco Book Festival announced the 2020 Book Awards.
Headline titles win six awards!
Opposition Research by Rick Robinson Winner – Best General Fiction
The Redemption by Lauren Hudson Runner Up – Best Young Adult Fiction
Four Bears in a Box by Dreama Denver – Honorable Mention – Best Children's Book
The Vast Venus Conspiracy by Dr. Raymond A. Keller – Honorable Mention in the Wild Card Category
Kiamichi by Karl Stewart- Honorable Mention Best General Fiction
What's So Special About Today by Kelsey Clark – Honorable Mention – Best Children's Book
Submitted works are judged by a panel of industry experts using the following criteria: General excellence and the author's passion for telling a good story and the potential of the work to reach a wider audience.
Goodbye Homeboy: How My Students Drove Me Crazy and Inspired a Movement by Steve Mariotti and Debra Devi (BenBella Books) as the winner of its annual competition honoring the best books of the spring.
It's been a long few months since the pandemic took over our lives. We hope to resume our live events as soon as local authorities allow large gatherings. Our future events will be open to all past winners who wish to be acknowledged.