Zoom Into Books!
Interactive Presentations, Workshops, Author Readings!
Headline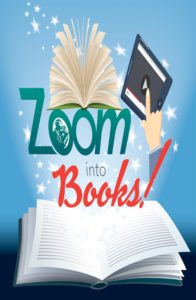 Books invites you to meet the best of  the best of award-winning authors up close and personal from the comfort of your own home!
Join our Headline Authors for a fun and educational video presentation during the stressful times our country is going through. Staying at home can be challenging for some, so take a time out and meet our award-winning authors, close up and at home!
We have a wide variety of programs by age or by subject. Using video Zoom, you can interact with the authors, ask questions, and even do crafts!
You will also have an opportunity to purchase an autographed book if you wish, and watch the author personalize it to you or your child.
Click on

Register HERE

to register for Zoom Events
Facebook Live!  Zoom Into Books, Headline Books, and Author's Facebook Pages – no need to register
Watch these Zoom Into Books Presentations Now! More HERE
Coming Soon to Zoom Into Books YouTube Channel