Zoom Into Books!
Interactive Presentations, Workshops, Author Readings!
Headline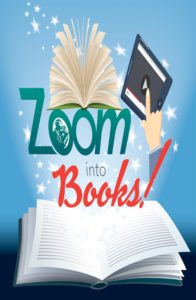 Books invites you to meet the best of  the best of award-winning authors up close and personal from the comfort of your own home!
Join our Headline Authors for a fun and educational video presentation during the stressful times our country is going through. Staying at home can be challenging for some, so take a time out and meet our award-winning authors, close up and at home!
We have a wide variety of programs by age or by subject. Using video Zoom, you can interact with the authors, ask questions, and even do crafts!
You will also have an opportunity to purchase an autographed book if you wish, and watch the author personalize it to you or your child.
Click on Author Name to register for Zoom Events
Facebook Live!  Events on Author's Facebook Pages – no need to register
Watch these Zoom Into Books Presentations Now! More HERE
Coming Soon to Zoom Into Books YouTube Channel
Landau Eugene Murphy Jr and Rick Robinson with guest interviewer Burke Allen of Allen Media Strategies – Sneak Peak Zoom Inside the Book!
Colleen Driscoll – Piper the Elf Trains Santa 
Lauren Hudson – The Ascension – Developing a story through plot – 
Millie Snyder – Lean and Luscious Mediterranean
Colleen Driscoll – Piper the Elf Rides A Reindeer
Don Helin – During these troubled days, consider documenting your story in a memoir – A memoir is a journey though the writer's past.  It is not an autobiography — one's entire life — but a slice of life.  Memoirs meld the accuracy of nonfiction with the story-telling tools of fiction.  This creative nonfiction approach helps bring scenes alive.
Lauren Hudson – The Deception – Developing a story through conflict 
Lisa McCombs – Bombs Bursting in Air: Recognizing our country's military veterans
May 27
12:00 pm ET – Don Helin – The importance of believable villains – Villains have to be strong and unique, not just your run-of-the-mill bad guys.  And they have to be motivated to do what they do.  Learn how to make your villain catch your reader's imagination and keep it throughout your novel. Register HERE
May 28
2:00 pm ET – Shannon Bennett Campbell – Color Me A Mountaineer – Register HERE
May 30
12:00 pm ET – Lauren Hudson – The Redemption – Developing a story through conflict- Register HERE
2:00 pm ET – Dr. Raymond Keller – Final Countdown: Rockets to Venus. Probe the mysteries of life on Venus with the "Cosmic Ray," with a look into the inner workings of the space programs of Russia, the United States, Japan and the European Union. Register HERE
4:00 pm ET – Lisa McCombs – I Have MS. What's Your Super Power? Lisa McCombs reads from her common sense guide to living with multiple sclerosis.
June 1
7:00 pm ET – Rusty McQuade – Tattletale Bathtub – Personal Hygiene for Kids – Register HERE
June 2
12:00 pm ET – Teresa Power –  Little Mouse Adventures: Yoga at the Zoo – Register HERE
4:00 pm ET – Beth Bendix, Guest Author – Ghost Writer (A Story about Telling a Holocaust Story) – Register HERE
June 3
7:00 pm ET – Joel Burcat – Environmental "Eco" thriller fiction – Register HERE
June 4
12:00 pm ET – Colleen Driscoll – Piper the Elf and Santa's Rockin' Band – Register HERE
June 16
2:00 pm ET – Deb Brandon, Guest Author – But My Brain Had Other Ideas (and) Threads Around the World  – Register HERE
June 20
7:00 pm ET – Dr. Raymond Keller – Cosmic Ray's Excellent Venus Adventure. Meet the Venusians that live and work among us, conducting their clandestine missions of peace on Earth. – Register HERE
June 22
2:00 pm ET – Beth Kurland, Guest Author – Dancing on the Tightrope: Transcending the Habits of Your Mind and Awakening to Your Fullest Life Register HERE
June 24
4:00 pm ET – B. Lynn Goodwin, Guest Author – Never Too Late: From Wannabe to Wife at 62 – Register HERE
June 30
7:00 pm ET – Dr. Raymond Keller  – The Vast Venus Conspiracy. Dr. Keller introduces his latest book on the massive UFO cover-up and the true identity of the saucer pilots. –Register HERE